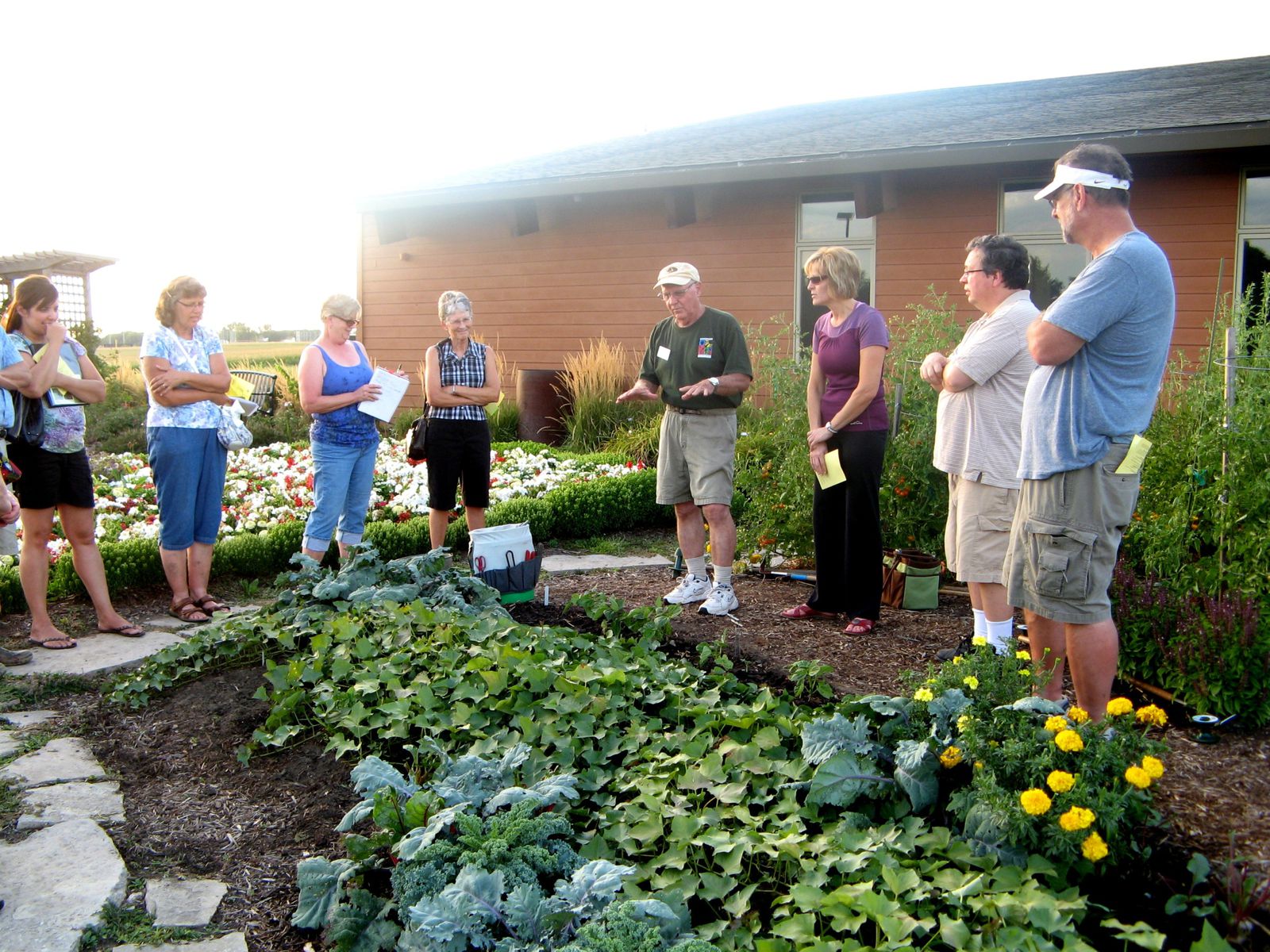 Homegrown Lifestyle Network members tour the Linn County Master Gardener Demonstration Gardens at Lowe Park.
The Linn County Master Gardeners' Lowe Park Demonstration Gardens offer an outdoor plant growing lab. Visit our public outdoor plant learning lab at Lowe Park, 4500 N 10th Street in Marion, Iowa.
Twelve continuously developing gardens are available for public education and enjoyment. The gardens are accessible all day, every day. Take a self-guided tour through the gardens using the Demonstration Garden brochure available at Lowe Park in the garden mail box (pictured here).Linn County Master Gardeners are available to answer questions regularly on Tuesday evenings and Thursday mornings. The twelve gardens on display this season include:
1. Rain Garden, west end behind Greenhouse - Rain gardens are designed to collect rain water and allow the water to be absorbed into the soil rather than runoff into the sewer system. The plants are able to stand periods with wet roots and also thrive in normal garden conditions.
2. Rose Garden - The bed features roses especially bred to withstand cold windy midwest winters. The Buck roses were developed at ISU.
3. Perennial Beds - This garden contains old favorites as well as newer varieties of perennials suited to the gardens of our area.
4. Annual Garden - Changing the theme of this bed yearly, the design and color scheme of the annuals is never the same twice. This allows us to test new plants and enjoy the old "friends".
5. Spring Bulbs & Daylily - Starting in April with a parade of spring bulbs and later with a long season of daylilies, this bed has color most of the growing season.
6. Vegetable Garden - The vegetable garden is a workshop to evaluate both new and heirloom varities of a full range of vegetables and companion flowers. Watch the vegetable garden grow online via the Garden Cam!
7. Xeric Bed - This bed is designed to be easy care with plants that survive with only rains for moisture and little care.
8. Splash Beds - Twin beds filled with bright annuals to welcome visitors to the garden and arts building.
9. Grandma's Everlasting Garden - A collection of plants with flowers or plant parts suitable for drying for bouquets and crafts to brighten winter days.
10. Herb Bed - Culinary herbs are featured in this bed with a grouping of basils for every taste.
11. Birds & Butterflies - This bed features plants for attracting birds and butterflies to the backyard with its many colors and scents.
12. Conifer Garden, east end beyond pond - Standard and minature conifers fill this bed with many shapes and sizes.
The Lowe Park Demonstration Gardens are just one of many projects the Linn County Master Gardeners' offer the community. The Master Gardener program is offered by Iowa State University Extension & Outreach, Linn County. We provide research and education on public issues, food and nutrition, health, financial management, youth development, and family relationships.
Lowe Park Arts & Environment Center - Marion, Iowa
The Marion Arts Council is located at the Lowe Park Arts and Environment Center, 4500 North 10th Street in Marion, Iowa. To reach us you can call 377-4846 or email us at marionarts@cityofmarion.org;