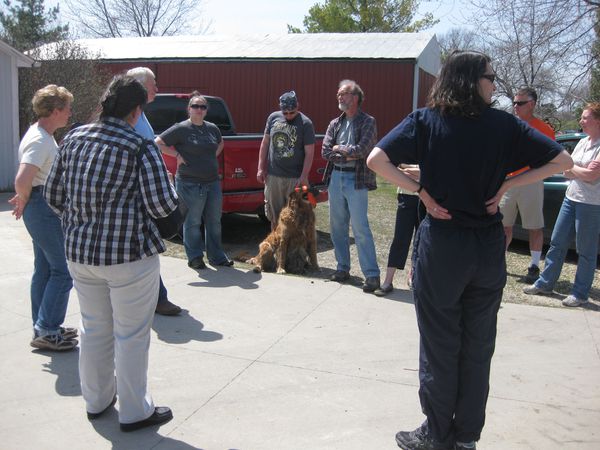 Homegrown Lifestyle participants enjoyed seeing all the things they could be doing to get the most out of their land!
Sharon & Dennis Lang have transformed a bare field into a productive homestead for their family in the 22 years they have been there! Homegrown Lifestyle participants on the tour learned about with windbreaks, trees, CRP, fruit trees, creeks, fens, and pasture. The Langs also shared their experiences with raising livestock including cattle, chickens, geese, guineas, and turkeys. Several vegetable garden beds and apple trees provide them with fresh produce! Their dogs serve as guardians as well as pets.
Dennis and Sharon suggested many ways to be resourceful when starting projects like these--salvage materials from buildings that would be torn down, buy old buildings cheaply and move them to your property (for a chicken house, for example), find used farm equipment to purchase to do simple things like bale hay for livestock, offer to mow and bale a farmer's water-ways, allow a local honey producer to place a beehive on your land in exchange for some honey, or get several families together to help care for and milk a dairy cow.
Don't be afraid to make mistakes and get creative!
Have you ever seen a fen? "Fens are the rarest of Iowa's wetland communities...they are all the products of seepage of groundwater to the surface. Because the water is rich in calcium and other minerals, only a select group of plants is able to grow there." Find out more in this publication.