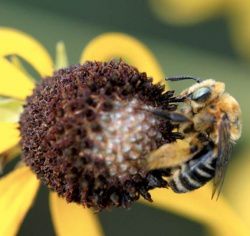 Pollinators contribute to food production through crop pollination. The annual value of pollination services to U.S. agriculture is estimated at $20 billion. Insects also pollinate wild plants, which is essential for natural ecosystems. Honey bees, are the most recognized pollinator, however there are 4,000 species of wild bees in North America and several other insects are considered pollinators.
Are you thinking about your garden as spring approaches?
Turns out it doesn't take a whole lot of flowers to attract pollinators and other helpful insects - you just have to plant the right ones! The Leopold Center for Sustainable Agriculture offers a wonderful fact sheet with recommendations for making a bee-friendly menu of native flowers. Check out the publication below or find it--along with other useful resources--on the Leopold Center website.
Conserving Beneficial Insects with Native Plants
Leopold Center for Sustainable Agriculture | Leopold Center for Sustainable Agriculture
The Leopold Center was established by the 1987 Iowa Groundwater Protection Act as a research and education center at Iowa State University to develop sustainable agricultural practices that are both