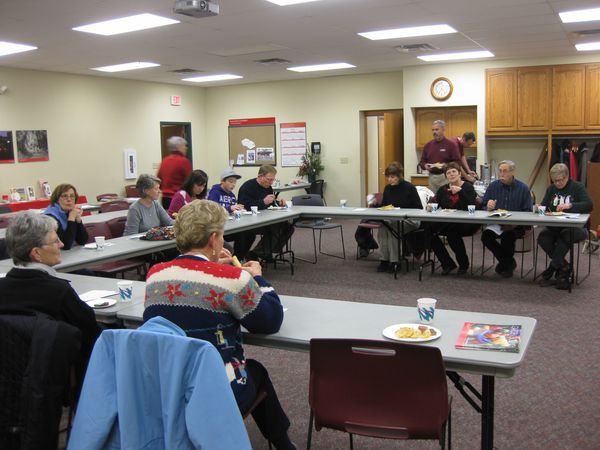 Homegrown Lifestyle Network participants shared their favorite tools, resources, and gift ideas. They enjoyed treats, conversation, and a homegrown gift exchange!
Members of the Homegrown Lifestyle Network shared their favorite tools and gift ideas for a homegrown lifestyle! Here are some of the great ideas shared:
ISU Extension & Outreach 2013 Garden Bounty Calendar Get yours today!

https://store.extension.iastate.edu/

Getting Your Hands Dirty & Feet Wet Again book by the Linn County Master Gardeners

Available for $20 at the Linn County Extension Office http://www.extension.iastate.edu/linn/news/gardening-handbook-now-available-pre-order

Cheesemaking Kits for those who would enjoy trying something new or have milk

All New Square Foot Gardening (Grow More in Less Space!) by Mel Bartholomew

Row covers

Tools

Garden Gate magazine is a favorite of many local Homegrown Lifestyle parlicipants and Master Gardeners. http://www.gardengatemagazine.com
So Easy to Preserve book

The University of Georgia Cooperative Extension is pleased to offer the

5th edition

of its popular book,

So Easy To Preserve

. This beautiful book contains the latest U.S. Department of Agriculture recommendations for safe food preservation.

So Easy To Preserve

is now a 375-page book with over 185 tested recipes, along with step by step instructions and in-depth information for both the new and experienced food preserver. Chapters include

Preserving Food, Canning, Pickled Products, Jellied Fruit Products, Freezing and Drying

. This 5th edition has 35 new tested recipes and processes, in addition to a new section with recommended procedures for home-canned salsas

http://setp.uga.edu/

Blenders, juicers, and food processors come in a variety of prices and uses. Do a little and choose one that fits your needs. These tools can be a huge help when trying to use all of the produce you are harvesting. You can quickly create healthy drinks packed with nutrients by including a large amount of produce in one beverage!

Shared what they had been up to since the class ended last Spring--raised beds, raising their own beef, how to preserve all the produce they grew.