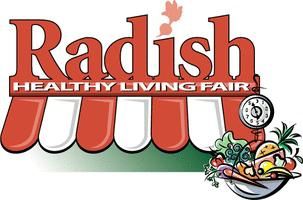 Radish Magazine - Healthy living from the ground up
PDF of the Current Edition The seventh annual Healthy Living Fair a celebration of local and natural foods, health and fitness, nutrition and the environment will take place Saturday, June 15, next
The seventh annual Healthy Living Fair — a celebration of local and natural foods, health and fitness, nutrition and the environment — will take place Saturday, June 15, next to the Freight House, 421 W. River Drive, Davenport.

The fair, which is presented by Radish magazine, will be open from 8 a.m. to 3 p.m. The nearby Freight House Farmers' Market will be open from 8 a.m. to 1 p.m. Admission is free.

Kicking off the fair again this year will be the annual Rise and Shine Yoga Class led by Jeani Mackenzie at 9 a.m. Fitness enthusiasts can follow up with a free Zumba demonstration at 10 a.m. led by Bettinna Bolger.

New to the fair this year will be a drum circle at 11 a.m. led by Terry Hanson. Visitors to the fair can bring their own percussion instruments, borrow one from Hanson, or make their own from recycled goods at the booth of Reusable Usables of LeClaire, Iowa. Members of the Quad City Ukulele Club will keep the musical merriment going with a live ukulele performance onstage at 1 p.m.

In between musical acts will be the annual Radish Pet of the Year contest on stage at noon. Pet owners will have a chance to share how they raise their pets in healthy and earth-friendly ways. A panel of Radish staff members will narrow the entries down to a group of finalists, and the winner, chosen by popular applause from the audience, will be featured on the cover of a future issue of Radish.

The one-day fair also will feature a marketplace where visitors can shop for and experience the healthy goods, resources and services featured in Radish. More than 60 exhibitors will present healthy foods; alternative energy products; environmentally friendly products and produce; outdoor recreation opportunities; and holistic, alternative and integrative medicine.

During the fair, visitors can take in the view of LeClaire Park and the Mississippi River. Kids can use the playground behind the freight house. Food and beverages will be for sale at the fair and the adjacent farmers' market.

Support for the Healthy Living Fair is provided by The Friends of Radish: Metro, KWQC-TV News 6 and WQPT Quad-Cities PBS. Sponsors include Davenport Levee Improvement Commission, the Freight House Farmers' Market and the City of Davenport Parks and Recreation.
Check it out!