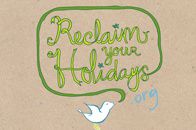 Sign up now: Free UNI CEEE/ISU Extension Webinar Series "Green Celebrations" - Starts Wednesday, February 20, 1:30-3 pm
Are you interested in learning how to create more sustainable patterns of consumption, especially around celebrations? This series helps you understand the ecological impacts of consumption and offers "Green Celebrations" as a venue to start talking about these issues with your audiences. If you want to help others understand how the manufacture, distribution, sale, use and disposal of goods and foods impacts the environment, this series is for you.
Please join us for UNI/ISU's Green Celebrations Interactive Webinar Series starting on Wednesday, February 20, 2013 at 1:30 pm! Participation is free so sign up! To register, click here: http://goo.gl/aUKLu. Please forward this invitation to others who may be interested in participating.
Here's an overview of the three sessions:
February 20:

Rethinking Holiday Celebrations

You'll gain new content knowledge, deepening your understanding of the ecological impact of consumption as well as the relationship between life satisfaction and "stuff."

February 27:
Simplifying Gift-Giving, Food & Gatherings

You'll be inspired and learn how to use resources introduced to you to help your clients take concrete actions to live more environmentally friendly and more meaningful lives.

March 6:

Taking Green Celebrations To Your Community

You'll make a plan so you can start using Green Celebrations/Reclaim Your Holidays materials immediately in your community.
Instructors are Susan Salterberg (UNI CEEE) and Kristi Cooper (ISU Extension & Outreach). If you have questions, please contact Susan Salterberg (susan.salterberg@uni.edu; 319-337-4816).
Participants in UNI workshops say:
· "I have cut way back on 'recreational shopping.'"
· "I think more, 'do I need this?'"
· "If everyone got to see one portion of what we talked about, some eyes would be opened."

To register for the series, click here http://goo.gl/aUKLu. You only need to register once for the entire series. For more information, please contact Susan Salterberg at susan.salterberg@uni.edu.

These webinars are jointly provided by the University of Northern Iowa Center for Energy & Environmental Education and Iowa State University Extension & Outreach. Green Celebrations is part of the UNI CEEE Reclaim Your Holidays initiative. Funding for this project is provided in part by the REAP Conservation Education Program and the Iowa Dept. of Natural Resources Solid Waste Alternatives Program.
CEEE | University of Northern Iowa
UNI Center for Energy & Environmental Education University of Northern Iowa CEEE 109 Cedar Falls, IA 50614-0293 (319) 273-2573
http://www.uni.edu/ceee/hometown/reclaim-your-holidays/reclaimyourholidays
Often we find ourselves focusing on external rewards like money, possessions, or the opinions of others which can lead us to feel dissatisfied with our lives. However, research finds that people are happier, more satisfied, and feel more alive and vital when they prioritize their lives around: personal growth, accepting one's self, nurturing close relationships with family and friends, and contributing to their communities.