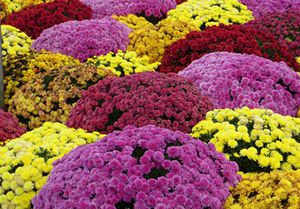 Who can resist a splash of color in the fall when your flowers are starting to look faded and are dying off? You see those chrysanthemums at the nursery or big box store and grab a few, thinking they'll be a marvelous addition to your garden for years to come.
Think again. Not all mums are created equal. If you received mums in a florist arrangement, those mums are meant for cutting blooms. Florist mums won't overwinter, but garden mums will, with protection. Garden mums (zones 5 to 9) might be iffy here. Some cultivars are less hardy than others and may not survive.
Mums have a tight, mounding habit and lots of blooms, so they're good to use in big masses of plantings. Try one or two colors to get the best effect, or plan on transitions between related colors.
If you plant mums in the fall, roots don't have time to establish themselves. If you want something more permanent and are willing to provide proper care, plant garden mums in the Spring and let them get established in your garden. That improves their chances of overwintering and blooming again next year. Plant them in a sunny spot (at least 6 hours of sun), in well-drained soil. Plant about 1 inch deeper than in the nursery pot. Water after planting, and never let them wilt, but avoid soaking the foliage. If you plant in Spring, apply a5-10-10 fertilizer once or twice a month until cooler weather sets in.
To overwinter your mums, mulch them well with straw or shredded hardwood. Pinch off the dead blooms but leave the branches intact. When the weather warms up, pull away the mulch to let the new shoots get light and air. For nice full perennial mums, pinch back to create more branching and blooms. Start pinching as soon as buds appear in the spring. Pinch about half of the tender new growth at the top of the shoot; choose some stems with buds and some without. Repeat the process with every 3 to 5 inches of growth (about every two to four weeks) until July 4 for strong beautiful plants in the Fall.
Because mums aren't as expensive as many perennials, you can plant them like you would annuals and not worry if they don't survive. They make great container plants, mix with other foliage plants or line them in a row in a window box.
Regardless of whether the mums are in the ground or in a pot, keep pinching them back and deadheading them to get the fullest look and the most blooms from these fall flowering beauties.
For answers to your garden questions, call the ISU Extension and Outreach Linn County Master Gardener Hortline at (319) 447-0647.
by ISU Extension and Outreach Linn County Master Gardeners Jean Wilson & Becki Lynch