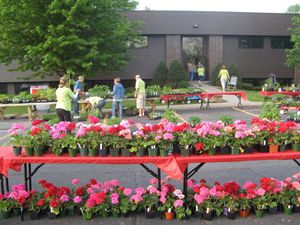 Are you still in search of high-quality plants for your garden?
On May 17th, the Linn County Master Gardeners will be holding their annual Plant Sale in the parking lot of the Linn County Extension Office (383 Collins Rd NE, Cedar Rapids). The sale will be open from 8 am to noon or until the plants are gone.
Choose from many kinds of perennials (both for sun and or shade) including several varieties of hosta and daylilies, wildflowers, groundcovers, ornamental grasses, and more. The sale will also feature vegetable and herb starts, annuals and houseplants. These plants come from our Master Gardeners' gardens and some were raised in the Linn County Master Gardeners' Greenhouse, where they have been carefully potted, and tenderly taken care of until the sale day. Best of all, they are priced for anyone who likes a bargain. Take Master Gardener plants home, grow them and enjoy them for years to come.
NEW FOR THIS YEAR: We will be accepting credit card payment along with cash and check. Come early for best selection and great bargains!
Visit http://www.extension.iastate.edu/linn/news/master-gardener-plant-sale for additional information and a list of available plants.