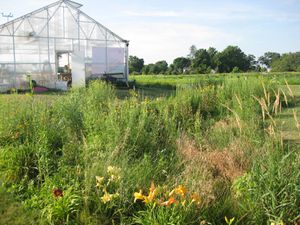 Thoughts of spring! And of the major thaw and April rain showers we will soon be experiencing.
While the moisture is great for our gardens and yards, much of the water doesn't end up in the locations where it is most needed. It runs over the sidewalks and parking lots picking up chemicals and other contaminants that end up in our ground water supply.
So what can you do at home to direct the water to your desired location and remove some of those impurities?
Rain Gardens offer an attractive way to capture excess water and filter out the contaminants before they seep into the ground water.
For more information about Rain Gardens, refer to Iowa State University Extension and Oureach's publication, "Rain Gardens: Filtering and Recycling Rain Water," found at https://store.extension.iastate.edu/Product/Rain-Gardens-Filtering-and-Recycling-Rain-Water.
And this spring, be sure to check out the Rain Garden (pictured above) out at Lowe Park in Marion!