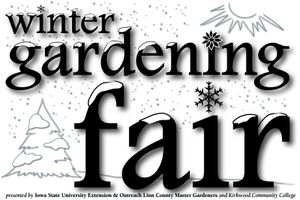 With a new year comes many new opportunities: the chance to learn new information, start new garden plans, and maybe even pick up a new hobby.
The 2014 Winter Gardening Fair, presented by the ISU Extension and Outreach Linn County Master Gardeners and Kirkwood Community College, offers the possibility for all three.
With classes ranging from planning your garden and growing blueberries to managing wildlife and restoring prairielands, the Winter Gardening Fair has something for everyone.
You might even decide to try mushroom hunting after hearing from Marty Augustine of the Prairie States Mushroom Club during his "Edible Mushroom Orientation." Over the course of his presentation, Marty will provide insight as to where and when you can find edible mushrooms, what you should be looking for and what you can do with the mushrooms you find.
Join us on February 15th for this all-day event and pick five class topics that are match your specific gardening interests. For additional information on other class offerings and how to register, visit http://www.extension.iastate.edu/linn/news/winter-gardening-fair-2014. Classes fill up quickly so register today!