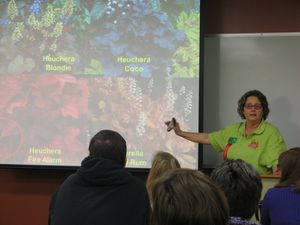 Despite the colder weather outside, gardeners are still potting and planning. Some are using season extension methods while others are thinking about next gardening season. In fact, the Linn County Master Gardener Speakers Bureau receives more speaker requests during the fall and winter months than any other time, primarily because those who generally like to hear from Master Gardeners are busy in their own garden during the gardening season. Nearly every week someone is asking about the Speakers Bureau.
What is the Linn County Master Gardeners Speakers Bureau all about?
The Speakers Bureau was founded to educate groups and organizations on a variety of horticulture topics. Master Gardeners presentations are given free of charge, however, donations to the program are accepted. For events outside Linn County, Master Gardeners also will accept mileage reimbursement.
Linn County Master Gardeners are a dedicated group of volunteers who have completed training from Iowa State University and are willing to share their horticulture knowledge with others in the community. There are more than 175 active Linn County Master Gardeners now. Linn County Extension Master Gardeners have received statewide recognition for their work to provide gardening education to the public.
In 2012, they spoke at more than 50 events held by community groups, gardening clubs, after school programs, schools, churches, non-profit organizations, economic development groups, home-schoolers, among others.
How can you request that a Master Gardener come and speak to your organization?
For more information or to request a Master Gardener speak to your group, fill out the request form at http://www.extension.iastate.edu/linn/content/linn-county-master-gardeners-speakers-bureau. You can also email Michelle Kenyon Brown at Mkenyonb@iastate.edu or call (319) 3778-9839 Ext 309.
What topics can Master Gardeners talk about?
You name it and there is probably a Linn County Master Gardener who can talk about it.